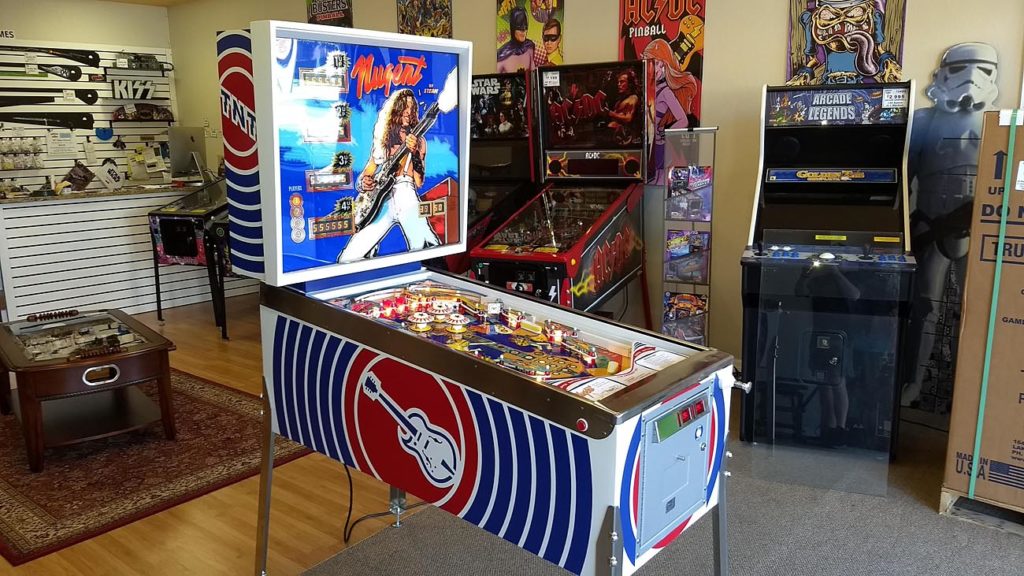 Gonzo, Stranglehold, Free For All, Cat Scratch Fever, only a few of rockin' and jammin' songs from Ted Nugent. All featured on the playfield of Stern's Nugent pinball machine from 1978. It had a production run of 2,873. The game's backglass, taken straight from the Weekend Warriors (1978) album cover, depicts Ted Nugent with his famous 1962 Gibson Byrdland guitar firing off rounds as if it were a machine gun.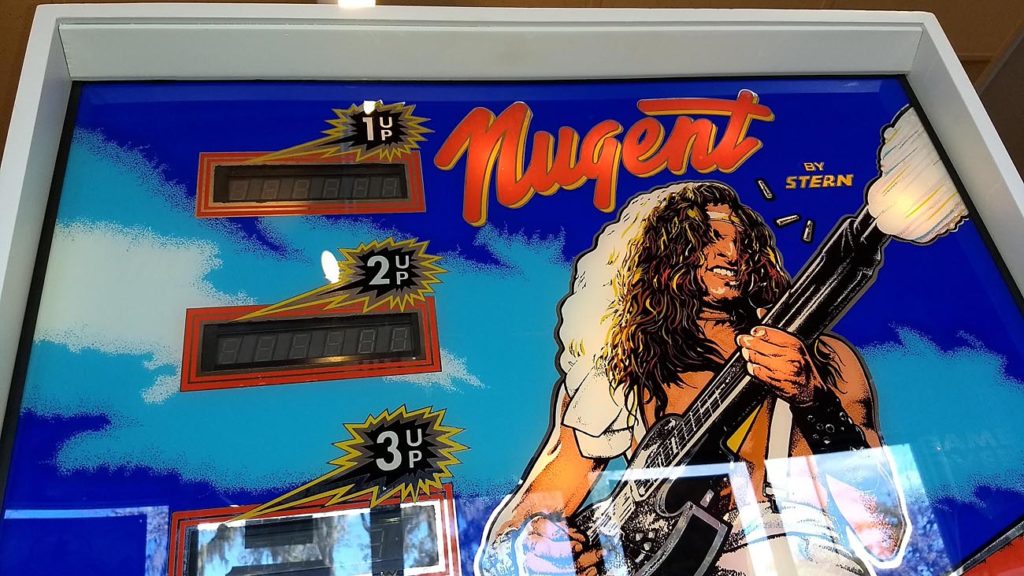 Nugent got a restoration that took 60 hours from start to finish. All done by me (no outsourcing.) More pictures are at the end. Here's the run down of the restoration.
Cabinet completely sanded and repainted. Any imperfections were corrected, sanded and repainted. This was done multiple times to get the best final finish. It was repainted with a semi-gloss white base coat, gloss bright red and gloss honorable blue. All enamel sprayed with a professional paint gun.
Pinball Pimp Stencils used for cabinet repainting. The original cabinet was scanned by Pimp to create the stencils. He fixed many flaws in the original sloppy stencils to make them look incredible and better than ever. There are no better stencils on the market.
Coin door was completely disassembled, repainted with a mild hammered silver paint to match the original, and reassembled. It is fully functional to accept quarters.
Coin door bolts were polished to a mirror finish on a high speed buffer.
Custom red coin door inserts were installed with new 25 cent labels.
Coin box repainted silver to match coin door.
Various parts refinished mild hammered silver paint: lock down bar mechanism, playfield prop rod, all five display holder brackets, backglass locking rod, and back box insert board piano hinge.
New Information Cards in the back box and cabinet. The originals were scanned, corrected and reprinted on card stock.
All lamp sockets were cleaned before new bulbs were installed.
Back box light board (that sits behind the backglass) was repainted satin white.
Vent grates and transformer grate shield were refinished in satin black.
Transformer bracket was cleaned and polished.
Aluminum shooter rod was polished to a mirror finish with a high speed buffer.
Playfield was stripped down, deep cleaned, touched up and polished with a pneumatic polisher.
All original playfield metal posts, guide rails, and metal roll overs were polished by hand with a high speed buffer.
Playfield plastics were cleaned and polished with Novus 2 scratch remover.
All playfield leaf switches were cleaned and checked for correct operation.
Playfield apron and shooter gauge was stripped and repainted gloss white enamel and a new decal from Pinball Rescue was installed.
Side rails and lock down bar were regrained (high grit sanded.)
Backglass was delicately touched up for best appearance.
Displays have new foam rubber installed on their front faces to protect the backglass from scratches in the future.
Inside the cabinet, the speaker mounting board and the plumb bob tilt mounting board were repainted blue to match the cabinet.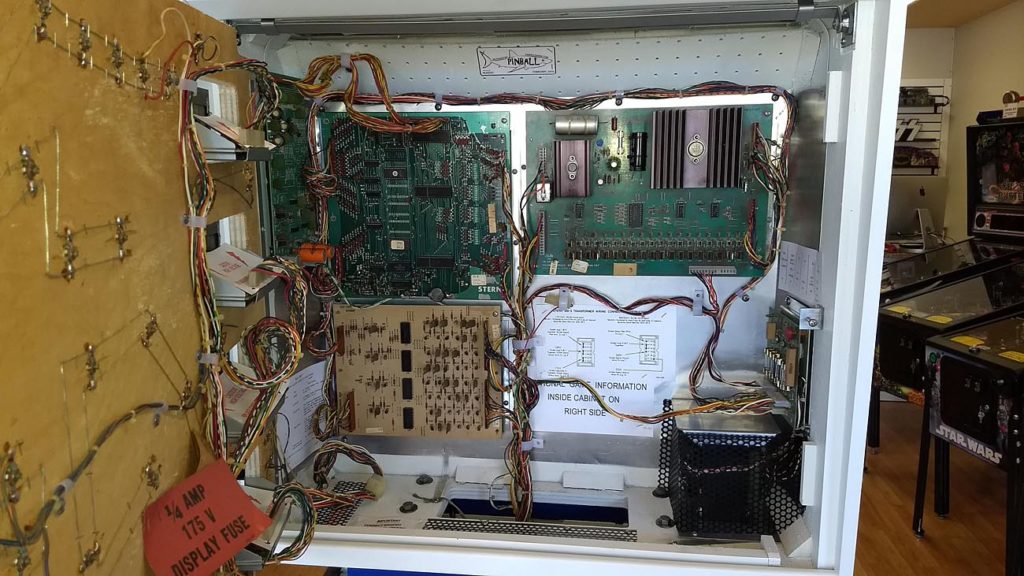 Electronics:
All header pin connectors (.100 & .156) were resoldered on every board and every display. That includes the power supply, driver board, lamp board, mpu, sound board and all five displays.
All power supply, driver board and playfield connector pins were replaced (.156 housing were replaced.Except the 20 pin housing on the power supply, that was reused.)
All driving transistors on the lamp and driver board were tested and replaced as needed.
All playfield solenoid diodes were replaced with new diodes.
Driver board 12v cap was replaced to prevent resets and improve reliability.
Nicad battery was removed from MPU and coin style battery installed to prevent battery leakage in the future.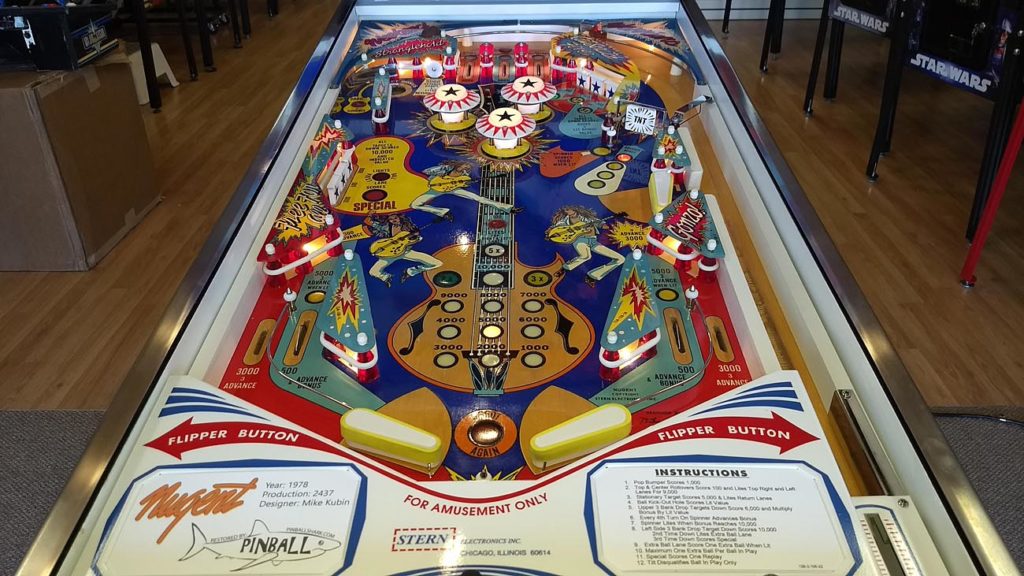 New Parts Installed:
New Playfield Glass
New Plastic Playfield Posts
New Playfield Rubber
New Light Bulbs Throughout
New Drop Targets
New Pop Bumper Bodies
New Pop Bumper Skirts
New Pop Bumper Caps
New Flipper Linkages
New Flippers
New White Round Playfield Target
New Legs
New Leg Levelers
New Leg Bolts
New Metal Cabinet Protectors
New Backglass Lift Channel
New Shooter Housing
New Shooter Barrel Spring
New Shooter Spring
New Cable R Clamps
Many New Screws Throughout
New Coin Door Sticker
New 15 Amp Power Cord
New Plastic Sliders on Cabinet and Back Box
New Side Rail Nails
Photo Gallery:
I play tested this game for 2 weeks to insure reliability. It's a hard job, but somebody had to do it! It's ready to ROCK and ROLL!