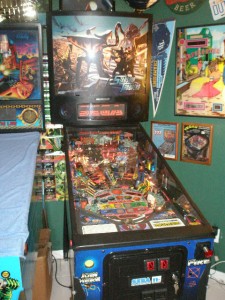 To start with a cliche, don't judge a book by it's cover. SST was a pleasant surprise. At first I thought it was another so-so Sega pin and I wasn't expecting such a fun playing game. It's a real target shooters delight with TONS of flow. It's in your face, fast paced fun with all kinds of surprises.
At first glance, Starship Troopers is similar to Terminator 2. There are enough changes that make it an even better player. SST plays very, very fast and I find the 3rd flipper and it's scoring unique. The magnets in the orbits (with orbit locks like TOTAN), the hidden skill shot when holding the left flipper, the ramps with exit holes, the building up of Recon levels with ramp loops (similar to Fish Tales), and the 12 almost blinding above playfield flashers make it interesting for me. The 6 different Recon levels provide access to the games many varied modes.
The right side outlane/shooter lane combo is probably copied from some previous game, but I've never seen it done like that before. I like it because it gives the game an almost wide body feel near the flippers. I love target hitting games and that counter in the middle with the digital read out telling how many I need to hit is just plain cool and also unique to this game. The pop up brain bug is also neat. It has very balanced scoring and incremental difficulty. There's excellent sound calls and cool under ramp lighting. Can you get to the final planet? It's pretty hard! Mine is setup steeper than 6.5 degrees (what the manual recommends). I found it a little slow at 6.5. My rear levelers are about 1 inch down. It makes a big difference in the speed and flow of the game.
I haven't seen the movie since it came out, so I can't say I'm an SST fan, but the game play won me over on this one. So I gave it top ratings for that. What's not so good is the sound quality and poor speakers. The right side is missing, but all that can be upgraded. You can even put the right channel back into the sound circuit and put it back to stereo sound if you are so inclined (it was removed by Sega as a cost cutting measure.) Artwork and graphics quality are also poor and pixelated. So it gets marked down for these things.
Overall, if you want a fun playing game with tons of features at a low price (compared to WMS/Bally games), give Starship Troopers a try. And when that marine is telling you what planet your on, hit both flippers for a surprise!
More info on this game:
http://ipdb.org/machine.cgi?id=4341
http://pinside.com/pinball/archive/starship-troopers