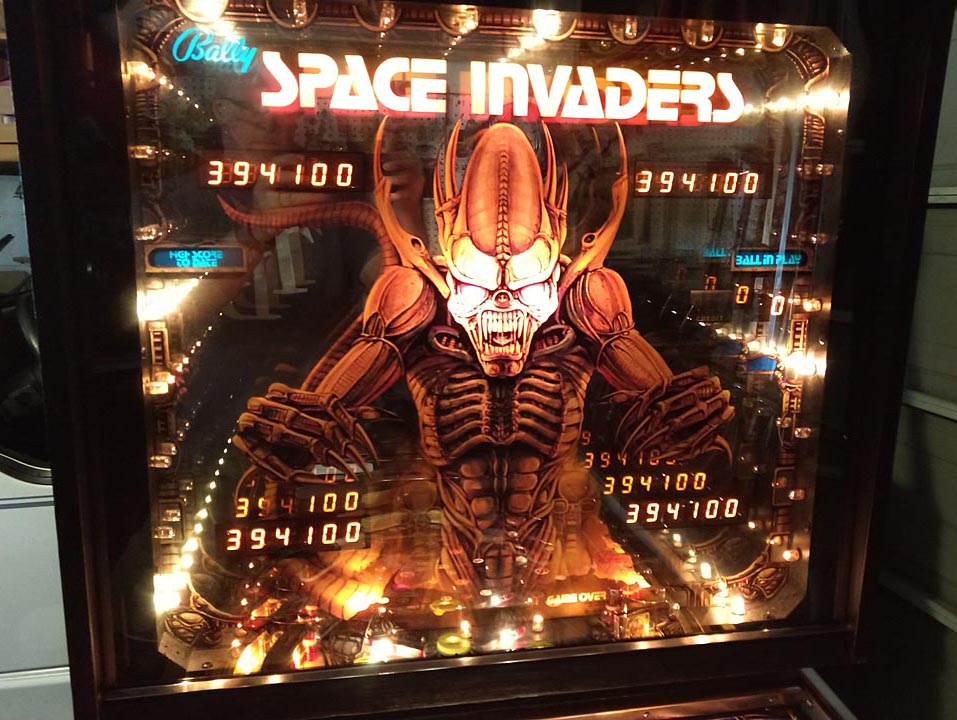 Space Invaders! Yes, they have visited again. This time in spectacular fashion. With this game, I have put my hard work and finishing touches to make it look incredible. Here's everything that was done to this game.
Rebuilt all four flipper units.
Installed new flipper bats.
Replaced all GI light bulbs.
Replaced several controlled lamp sockets.
Replaced all drop targets.
Replaced all playfield posts.
Replaced playfield star rollovers.
Cleaned and adjusted all playfield leaf switches.
Replaced Clone Chamber target.
Replaced all playfield rubber.
Replaced playfield screws as needed.
Polished playfield screws as needed.
Installed new plastic set.
Installed new nickel plated acorn nuts for plastic set.
Replaced the power cord.
Replaced the legs and leg bolts.
Replaced the flipper switches and buttons.
Replaced the cabinet side rails and nails.
Replaced the shooter barrel spring
Polished the shooter rod.
Remounted and adjusted shooter rod for proper play.
Replaced the pop bumper caps.
Polished the glass retainer bracket.
Refinished the lock down bar mechanism.
Touched up the apron.
Repaired rear particle wood damage.
Touched up the cabinet where needed.
Replaced molex connectors where needed.
Replaced the apron cards and back box instruction cards.
Replaced the MPU, solenoid, lamp, aux lamp, and power supply boards.
Installed LED 6 digit displays. (ordered as a kit and assembled.)
Cleaned and polished coin door.
Replaced the coin door mounting bolts.
Cleaned and polished lock down bar.