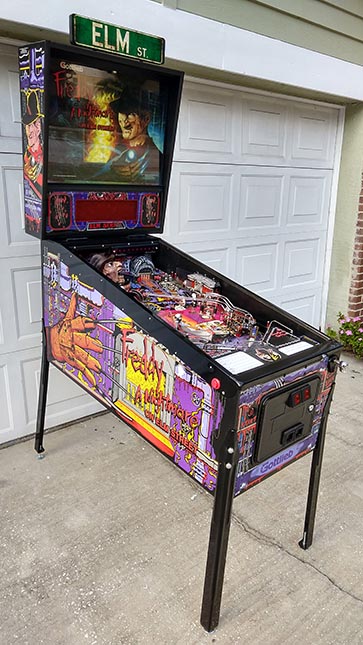 I just recently put the finishing touches on my Freddy game. This is a game out of my personal collection. It looks and plays awesome. Here is what was done.
Completely tore down the top side of the playfield for cleaning and mylar polishing.
Installed new playfield rubber.
Installed new pop bumper caps.
Installed new flipper bats, flipper linkages and coil stops.
Installed new custom drop target stickers.
Freddy's claw has been restored and has all four blades.
Installed new highly polished pinballs.
New apron cards were installed.
A new left ramp was installed.
Touched up minor area in between the pop bumpers on the playfield.
The display and all electronics are in good working order. A remote battery holder was added to the MPU.
All standard bulbs have been replaced with LEDs. This really brought the game alive.
Notes on the custom LED kit: Purple is used as the general illumination. Four extra spot lights were added to the playfield. Along with strip lighting under the apron between the flippers and a large LED strip behind Freddy's head that lights up the whole rear of the playfield. And, an extra white flasher strip was added on the left side across from the pop bumpers. It is tied into the flasher for the pop bumpers and is activated whenever they fire for enhanced effect. There are four flashers that are incandescent. They are in the boiler, behind Freddy's head, and an orange dome on the left side of the playfield. These all looked better without LEDs.
Powder coated the original legs, lock down bar, side rails, playfield glass retainer, and shooter housing gloss black.
Installed new leg bolts and leg levelers.
Touched up minor black paint on the cabinet.
I made and installed a custom skull shooter rod.
New cabinet flipper buttons were installed.
New coin door lock was installed.
New 120v power plug installed.
New piece of playfield glass installed.
New t-molding installed on the back box.
A custom one off street sign topper was made and installed. Welcome to Elm Street!